VijayaDurga Techno Systems
VDTS is mass manufacturing and supplying various types of driver's consoles for train applications. VDTS has experience in supplying these driver's consoles for EMU, DEMU, MEMU trains and Locomotives.
• Driver's desks are made using polyester/phenolic resin systems complying with various national /international fire standards for stringent requirements of flammability, smoke and toxicity (FST). GRP parts of driver's desks are made using RTM, VARTM resin infusion or conventional hand lay-up process capabilities.
Total Quality Solution
Design, Detailing, Fabrication & Erection
Conceptual Design
Proposal Drawings
Detailing by Tekla Software
Shearing & Cutting
Full Automatic welding lines
Shot Blasting
Galvanized Purlins & Zinc alum Panels
Unloading
Erection
Pre-galvanized Secondary Members:
.............................
Usage of pre-galvanized steel coils to roll form secondary members (Z&C sections)
Pre-galvanized purlins will remain rust-free, and do not require any painting.
Purlin, girt and eave struts shall be cold formed from steel which has minimum yields strength of 345 Mpa and will confirm to the physical specifications of ASTM A-570(Grade 50) or equivalent.
Wide bay purlins spanning up to 12 M for better shop floor layout and less foundation costs
Z-Section:
.............................
Purlins and Girts shall be roll formed Z-sections, 120-300 mm deep with 50-100 mm flanges. Each flange shall have a 16 mm stiffening lip formed at 45° to the flange with a thickness of 1.5 to 2.5 mm.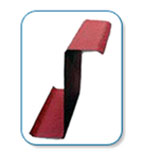 C-Section:
.............................
C-Channels are 100-300 mm deep roll formed with 50-100 mm Flanges with a thickness of 1.5 to 2.5 mm.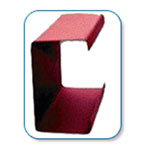 Superior Built-up Sections:
.............................
Minimum thickness of 4 mm for webs, 5 mm for flange width up to 150 mm, to ensure a better-quality product.
End Wall Framing:
.............................
Usage of hot rolled mill sections and built-up sections in end wall bearing frames.
Superior and more rigid than the traditional cold formed "C" section end wall frames.
Superior Cladding Fasteners:
.............................
Usage of self-drilling screws conforming to AS 3566-2002, Class – 3.
Premium high-corrosion resistant screws along with their bonded EPDM seals form the best fastener system Bead Mastic for roofing side and end laps.
Usage of bead mastic in all roof panel side and end laps.
Bead mastic, when installed properly, provides the best guarantee against roof leaks.
Not all PEB manufacturers in this region use this technique.
All other miscellaneous secondary members shall have a minimum yield strength of 240 Mpa.
Roofing System:
Roof /wall panels are manufactured out of high strength steel grade with minimum tensile strength of 550 MPa. The steel base is coated with Zinc-Aluminum alloy with minimum AZ150(150g/m2 with minimum coating mass) as per ASTM A792.
Color coated Galvalume confirming to ASTM A792 specification has specifically formulated paint system for external roofing and wall cladding application to give aesthetical appearance for long lasting color for much longer time than any other conventional paint system.
The paint system is designed to resist chalking and fading. The painting will be baked enamel polyester or silicon polyester with a film thickness of 1.0 mil, the reverse side shall be white with 0.5 mil film thickness.
The panels shall have 30mm deep major ribs, which taper in width from 20 mm to 60 mm and are spaced 250 mm on center. Between two major ribs is additional minor stiffening ribs spaced at 46 mm on center, each panel shall provide 1000 mm coverage.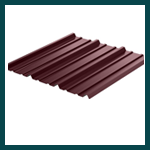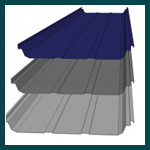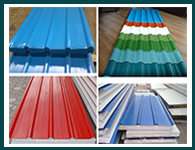 Double-Lok® System benefits
Generally, 50% of the complaints in a steel building are about the roofing components and water infiltration problems.
VDTS uses the Double-Lok® Standing Seam Panel System, a well-proven solution for metal roofs.
With its assured weather tightness advantages, this system is the best choice for a roofing system in India.
Double-Lok® Standing Seam System with mobile site roll former – facilitates single roll formed sheet from ridge to eave with no end laps in between.
Reduces the risk of leakage.
System versatility facilitates thermal expansion and contraction of the panel without any damage  UL 90 rating.
Tested by Factory Mutual Research Corporation for wind uplift, fire and hail damage.
Qualifies for use in several UL design assemblies and carries a UL "Class A" Fire Rating.
Simple and flexible.
Easy to install.
Durable.
Double-Lok® STANDING ROOFING SYSTEM WITH 360 DEGREE SEAMING Cover Width: 610 mm Thicknesses: 24 gauge.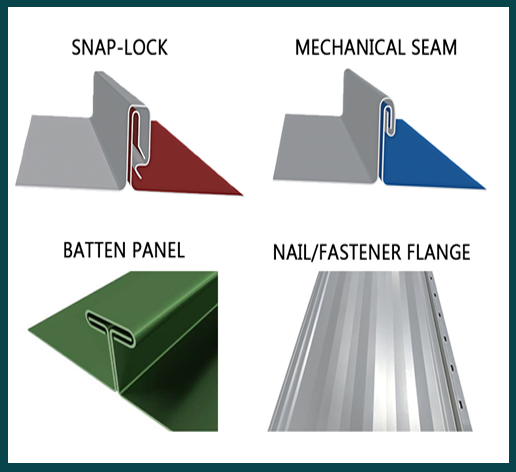 Roofing System:
Created by VDTS professional engineers to meet your exact needs, our custom designed framing systems provide exceptional flexibility and optimum performance. Available in a wide range of shapes, sizes and layouts to suit virtually any building requirement, our framing systems are engineered to fit accurately for efficient, economical construction. All built -up members conform ASTM A570/A572 GR-50, high strength material

Valley Gutters:
Supply of valley gutters of 1.5mm thickness in maximum possible lengths of up to 6 M, so as to reduce the number of joints.
They are painted with one coat of epoxy primer to the exposed face of the valley gutter providing years of corrosion-free surface.
Designed to avoid leakages.